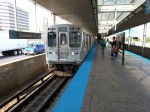 I leaned out on the platform, straining my ears for the train's first distant rumble. "It'll come, Jessie," Scott reassured me. It was July in Chicago. We were waiting for the L. And his enthusiasm was as high as my own.
When I was a kid, I hated trains exactly when my dad and sister were enjoying a Lionel phase. By the time I reversed my position, they were through. But once miniature engines claimed my interest, they never let go. Marrying an addict only fueled my interest. We honeymooned by train. We look for historic railway projects where the real hobbyists practice their art. And, of course, we drag along our children.
But not in Chicago. In Chicago, we were alone, Sam and Caroline each with a grandmother. For the first time in a little more than twelve years, Scott and I took trains with destinations.
True to his prediction, the L arrived on time, coming not so much in a rumble as a speed generated roar. The rails rattled in the unmistakable thwumpa-de-clack pattern of a locomotive, but above that sound, wind echoed as the train knifed through the tunnel. We weren't elevated here. This portion of track was pure subway. Although the cars visibly slowed, I still thought we might be passed by, as we had been when the Howard Station express thundered through several minutes ago. But the brakes suddenly screamed, and the train squealed to a halt, letting us on.
That time, we got to sit down. In fact, we mostly sat on the trains.
Our hotel was out by O'Hare, and we commuted forty minutes each way to and from downtown. Because we got on so early in the route, we didn't have much of a seating problem going either way. So we watched as we flew down the interstate median, passing traffic whether the vehicles were at a standstill or moving at a good clip. Inside, the blaring sound of our motion, of the wind and the wheels, made conversation nearly impossible.
On another day heading back from a Cubs game, the train had been crowded. Scott and I stood clutching plastic loops, lurching at every stop as the automated voice above announced the next station and whether the doors opened on the left or right. Sometimes, the engineer came on, urging passengers to hurry up getting off and on, so he could get out of the way for the next train. Before we left town, we picked up an Amtrack brochure and studied it, dreaming the places we could take the kids.
Honestly, though, Chicago is the finest. They say there is no sound like the L. I believe it. I've been there. I know.

Jessie Powell is the Jester Queen. She likes to tell you about her dog, her kids, her fiction, and her blog, but not necessarily in that order.