I'd have made a shitty pioneer.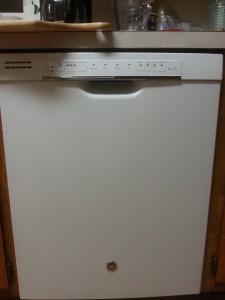 Our dishwasher stopped draining last Tuesday, because fuck you. Scott and I are in budgeting season, when everything is a tip-toe balance to make the rest of the year run smoothly. "We can fix this," I said.
Scott was not so optimistic. "Well, let's try."
We checked the filters, the obvious culprits, and got hopeful when we removed a trapped popsicle wrapper. (Don't ask how it got there.) But no, after I ran the drain cycle, the two inches of chunky food-muck remained. Disgusted, I turned off the power (the appliance has its own switch) and jammed my hand down its works.
I presume my Oby-gyn feels this way at some point during my annual visit, fumbling around in a slimy, invisible cavity hunting for God-only-knows-what. I located more of the popsicle wrapper and about a ton of noodles. I achieved nothing.
"Damn it, the thing's only clogged!" I didn't kick it. (But only because I was sitting down.) "You can hear all its happy little motors slurping away. Let's take the hose apart."
"I'll get the shop vac," Scott suggested.
While removing the standing water significantly reduced the gross-out factor, it did nothing to get us dishes that didn't reek of swamp. We did take the hose apart, only to discover that we were probably right. Clogged. Water went in the tub, but it never drained out.
"That does it," I announced. "I'm consulting the internet."
"Lemon. We didn't have this problem with the last one."
No, but it was ancient. Its time was coming. This isn't two whole years old! "Give me the model number, and I'll see if there's anything specific."
"Ready? It's G…D…F—"
"You're kidding."
"Nope. Geronimo, Delta, Foxtrot."
"Fucking apt. Not a good sign. Wish me luck."
The internet said nothing about my GDF machine. Or not it in particular. After viewing the third God-Damned plumber video carefully showing me how to clean the Fucking filters, I was ready to explode. I stopped You-Tubing and started Googling.
"Baking soda and boiling water," I finally concluded. "It's what you do for a clogged drain."
"Says doctor internet."
"Three sites concur, so it must be true."
"Three being the magic number and all."
Still, five rounds of baking-soda-boil, two Harry Potter quips, and multiple shop vac suctions later, the fucker worked.
For two nights.
Thursday, Scott turned it on only to be greeted with a flood. The soap hadn't even popped yet, but the kitchen floor was instantly coated with a thin layer of slime.
The plumber comes Thursday.
By then, we'll have been a week washing dishes by hand, which is to say Scott will have been a week washing dishes by hand. I'll scrub toilets more willingly. Clean kitchenware is Scott's arena even when all our appliances are fully functional. With one down, I'm content to let the plates back up. I have, however, been caught in guilt induced drying fits.
My ancestors with their tin tubs and scrub boards, their calloused hands gnarly and twisted, may roll over in their graves, but I, may it please the court, shall dine on paper.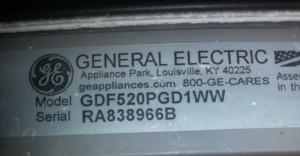 Jessie Powell is the Jester Queen. She likes to tell you about her dog, her kids, her fiction, and her blog, but not necessarily in that order.