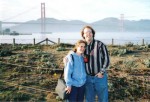 We watched The Princess Bride this morning, Sam and Caroline for the first time. "I'm glad you stuck with us," I said to Scott.
"I saw it before, in college."
I knew this. I also knew he hadn't been too keen. But he had clearly enjoyed it with the family. As he and Sam fixed the lintel that Sam broke apurpose two years ago and has accidentally snapped in two other places since, I said, "it doesn't count until you're with your true love."
"That's way too sappy."
I kissed him anyway.
If you know any of our history, it's this part: I didn't think this kind of love was real until I fell for Scott within moments of meeting him. Tomorrow marks fifteen years, one month, and one day since our first date.
I'm a mess right now .This movie has always been a favorite of mine. I've wanted to share it with the kids for ages. I expected to giggle at Buttercup's hyperbolic helpless-princess-ness. I expected to chant "Humperdink, Humperdink, Humperdink," with Miracle Max.  I expected to feel Inigo's passion and Westly and Buttercup's joy.
I didn't expect my heart to swell until I was weeping like a grandmother at a wedding. I didn't expect that the sight of my husband and son's heads bent over a thin piece of wood, piecing it back together puzzle-like would evoke such painful joy. I didn't expect, this many years later, to be as sure as I was the first day.
I never knew True Love was real or that it came with capital letters until I met Scott. I never knew there was something more than lust at first sight, that you could fall in love with a laugh before you'd learned a name, that the serenity of standing in a ten minute embrace that never even reached a kiss could lead to a lifetime of passion.
True Love is messy. Our marriage's sinews haven't grown like magic. We've worked on them, sewn them together, weaved them around each other and the kids. Raising children on the spectrum, high functioning though they may be, is not a little like plowing through the Fire Swamp. I don't know how many times Humperdink has found us at the other side of that forest in the form of outsiders who didn't understand one or the other of us, or all four of us together. I don't know how many last minute rescues we've had to pull off with no plans and few resources.
But these are the things that have made our bond real.
This is the storybook, the thing that drives the poets, the emotion that cannot be believed, only lived.
And every day of it is a miracle. Every goddamned day.
I love you, honey.

Jessie Powell is the Jester Queen. She likes to tell you about her dog, her kids, her fiction, and her blog, but not necessarily in that order.