Hey internet! To heck with Valentine's Day. Never mind those dead presidents. This is the week we celebrate my book!
The Case of the Red-handed Rhesus
 is now available in electronic and hardback editions. What are you still doing here reading? Rush over and buy it!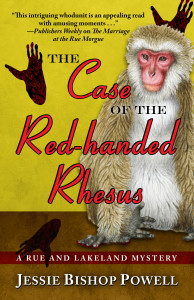 Jessie Powell is the Jester Queen. She likes to tell you about her dog, her kids, her fiction, and her blog, but not necessarily in that order.