We set out at early enough on Saturday, but one return home for forgotten items and a flat tire later, we arrived at our old friends' new home late. They moved halfway across the country two years ago, and we've only seen them in bits and snatches since. At the end of this past July, a job change brought them in arm's reach again.
Their son had been asking where Sam and Caroline were since noon when we finally got there. Our kids had been whining, "How much longer?" for most of the two hours since we'd popped on the spare tire, gotten the green light from a gas-station mechanic, and established a driving pace of a slightly wobbly 50 miles per hour.
Their baby, mere weeks old when we met her at an airport hotel, now knows how to run, and has sprouted an uncontrollable spiral of ringlets. Unable to contain my enthusiasm, I shrieked her name.
She fled.
"I don't know what I expected."
Scott said, "Let's get our suitcase."
"Okay—"
The baby dashed back in, flapping a book overhead. "Youreameathis," she commanded.
"Scott, you get the suitcase. I'm reading this."
The boys circled each other warily, suddenly unsure. Sam escaped out back to build a hut from fallen branches, while Caroline and their son played on the X-Box.
"BoomDaBoom," said the baby, establishing the weekend's one-song soundtrack.
The adults, who never lost touch to the same degree as the children, picked up old conversations as if we'd never stopped them. But we saw the boys struggling.
Though they played outside some, no game lasted more than a few minutes.
Later in the evening, Caroline and their son returned to video games.
We let them stay up late, and they had a fight about the closet light.
Sam got up at five o'clock Eastern the next morning.
Scott dropped off the car for a new tire, and the electronics revved to life once more.
An outdoor game of real-life Minecraft collapsed when they threatened to throw branches at each other, and Sam actually did it.
It seemed like every moment that we adults fell back into our old patterns, the kids floundered harder to find new ones. "They've grown apart," I said. "I don't know what I expected."
But then, their son rushed into the kitchen. "Have you guys seen my volcano? Mom! We need the baking soda, vinegar, and red food coloring."
He and Sam launched full-scale tectonic destruction out back then took up Sam's hut-building together. By the time we got our car back, they had found their rhythm at last.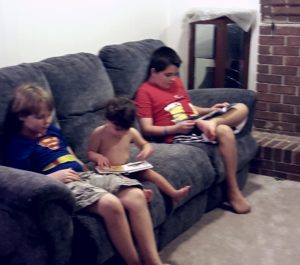 "I don't want to leave," Sam said.
Neither did I. The boys hadn't had enough time together yet, and we all knew that parting terms mattered.
"Tell you what. At this point, we're either eating here or on the road. Let's invite ourselves to dinner again. We'll get burgers and hot dogs…"
The kids vanished into the backyard before I finished.
Evening fell, and their son narrated a comic strip while the baby "Boom Da Boomed".
I prepared to announce our departure, but the baby clambered onto the couch beside Sam and flopped a book on his lap. "Youreameathis," she commanded.
And Sam did.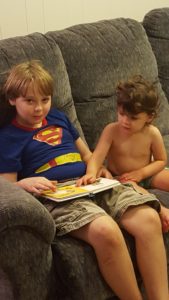 It was full dark by the time we finally hit the road, and a nasty patch of storms delayed our arrival home until nearly midnight Central Time.
We didn't care.
We miss them already.
But we have plans together next month. Our friends have come home, and, for the first time in two years, we'll see them again soon.

Jessie Powell is the Jester Queen. She likes to tell you about her dog, her kids, her fiction, and her blog, but not necessarily in that order.