Let's get straight to the < ahem > bare bones this week people. It's time to talk down and dirty with the Jester. As always, I'm linking up with Lisa at Seeking Elevation
http://www.quizopolis.com/survey/4614/Underwear-Survey/
What's your favorite underwear you own?
What? As if I would have favorite underwear owned by someone else? That's just icky.
Anyway,  my lucky underpants. Right now, that means a pair of bikini style Mickey Mouse prints that barely fit me and therefore leave me flopping and poking out at awkward angles.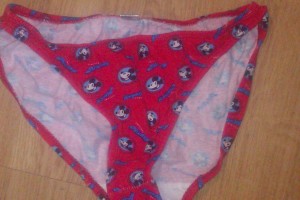 What's the worst pair of underwear you own?
I wouldn't narrow that to one. I'll discuss three.… Read the rest