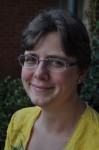 In one of my earliest memories, mom lifts me out of an amp case. "Honey, you're getting way too big for that." I am probably a year and a half old.
I'm driven by music; I grew up vibrating in four-four time. I never believed in love, probably because I always imagined I'd fuck my life up by getting together with a musician. Instead I lucked into this academic who isn't a big fan of concerts and guitars, who anchors me instead with the kind of harmony that doesn't need sound.
He understands how I thrive on the other, though.
Last year on our anniversary, Scott stayed home with the kids so I could drive to Birmingham and see The Head and the Heart.… Read the rest