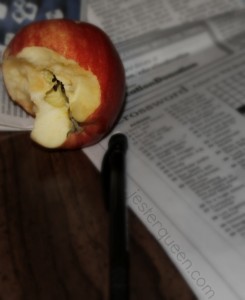 Kallum breezed into the kitchen and grabbed an apple. "Hey, babe." He kissed the top of his wife's head. She had on her bathrobe, and a folded towel sat beside her coffee. "Newspaper attack you on the way to the tub?"
"Hey." Jeanette looked up from her crossword puzzle and pushed her reading glasses up her nose. She didn't answer the question.
"You look distracted."
"I need a seven letter word that means samurai suicide. I'm trying to fit harakiri, but it's too long and doesn't start with 's'."
"Try 'Seppuku'." Kallum crunched into the apple.
"Ugh. Of course." She looked back down and started writing.… Read the rest