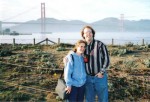 We watched The Princess Bride this morning, Sam and Caroline for the first time. "I'm glad you stuck with us," I said to Scott.
"I saw it before, in college."
I knew this. I also knew he hadn't been too keen. But he had clearly enjoyed it with the family. As he and Sam fixed the lintel that Sam broke apurpose two years ago and has accidentally snapped in two other places since, I said, "it doesn't count until you're with your true love."
"That's way too sappy."
I kissed him anyway.
If you know any of our history, it's this part: I didn't think this kind of love was real until I fell for Scott within moments of meeting him.… Read the rest