Skip to the backstory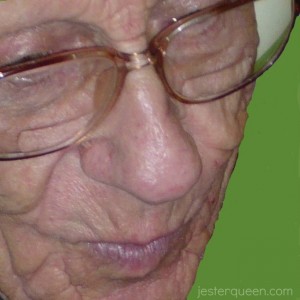 "That girl's got to find herself a man." Doreen, DoDo to all but a few of the newest nurses, stabbed her finger at Jennifer Anniston.
"I think she's got somebody, hasn't she?" asked Wilma. The women maintained an easy friendship based on their shared love of celebrity gossip. They watched the all the shows about movie stars' lives, and they collected magazines so they could compare nose jobs, boob jobs, and lovers.
DoDo said, "She needs one that'll stick."
The afternoon nurse, Audrey, swept into the room."That rag's a week old," said Audrey after she administered the appropriate pills. "I can pick you up this week's after work tonight."
"No," said DoDo. "Molly brings them to me on Saturdays."
Audrey moved on, and the women waited while her cart retreated down the hall. Wilma said, "Molly indeed. Can you imagine Molly bringing you one of these?"
"No, she's good enough on the large print books, though."
Then Wilma pushed herself up out of her seat and got DoDo's wheelchair from its spot in the corner. "Ready, dear?" she asked her older roommate.
"Of course I am," said DoDo. She swung down out of bed and gingerly settled into the chair. "Audrey's right about one thing. Our scandal sheet is a week old. It's high time for a new one."
Wilma pushed DoDo into the nursing home's garden, two old women out for an innocent stroll. She said, "I'm glad we don't live on the lockdown side."
"No, we couldn't run away like this," DoDo agreed.  They set their eyes on the garden's gate. When they were sure Audrey hadn't come down from the nurse's station to monitor them through the door as she sometimes did, they pushed out into the loading area, then maneuvered to the busy sidewalk beyond.
DoDo leaned back in the chair. "Maybe this week, Jennifer can get somebody to replace Brad," she said.
Wilma said, "Maybe she doesn't need a man at all."
DoDo clucked. "Scandalous!"

__________________________________________
This is my entry for this week's Trifecta Writing Challenge, where we have been tasked with the third definition of 'scandal'. Note that 'scandalous' is NOT the usage; 'scandal sheet' is. I'm not trying to slip one by and change the word form, which is not allowed. The last word is just soooo obviously right.
The story is based on a bizarre dream I had last week about my best friend's daughters. It was supposed to morph into my entry for Lance's 100 word song last week, but these old birds flatly refused to be confined to 100 words. Flatly. Refused. Which is in character I suppose, but maddening for their author.
They were supposed to run away from the nursing home and leave it at that, since that's what happened in my dream. But it wasn't taking place that way, because my brain kept inserting reality checks. So then, I was left with wondering what they COULD do, and they had all KINDS of ideas. They wanted to go to the movies, ride public transit until the bus driver caught on and took them back to the home, take DoDo's wheelchair joyriding through the Furniture gallery, and go try to get a test drive at the BMW dealership. Again. (Damned salesmen require a driver's license and insurance papers, and Wilma hasn't got her great-grandson on board with forging those or teaching her how to do so yet.) This seems fitting considering the girls the old ladies are based on.
Then Trifecta came along and saved me with 'scandal'.
I will be long dead by the time the real DoDo and Wilma  (whose names are not Doreen and Wilma) are old enough to star in this story (so will Jennifer Anniston and Brangelina). But I do so enjoy imagining the young people I know as old folks. Because to see them that way means they have survived adolescence and adulthood. It's a window into their lives as I will never know them.
And these kids would already have the cool and moxie to achieve a breakout like this, but you would have to convince DoDo that it was a good idea first.

Jessie Powell is the Jester Queen. She likes to tell you about her dog, her kids, her fiction, and her blog, but not necessarily in that order.