For this week's
Trifecta challenge
 (this week's word is confidence), I'm back in the nursing home with
DoDo and Wilma
. Take a second to read their previous (short)
escapade
. They have now returned from their shopping spree unscathed, as they have every week so far. It helps that Wilma's great grandson helped them hack the garden gate code, but sooner or later, they're going to get caught.
Here is the first of two nonfiction companion pieces to go with this little story.
And here is the other companion.
_________________________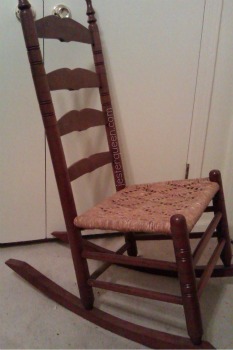 "I know what you did." Clara Jean Phillips peered at Wilma and DoDo from the hall, then waddled in and perched on  Wilma's ladder back rocker.
Wilma scolded. "When the nurses see you, it's back to the lockdown wing." Even as she spoke, a klaxon blared.
DoDo slid her hand up the inside of her bed and pushed the nurse call button. She mused, "How to buy her silence."
"Take me with you! And we won't come back!"
"We'd get caught before we left the gate. No, it's going to have to be something else."
"Quickly, now," Wilma added.
"You take it for me," Clara finally said.
"Take what, dear?"
"This!" Clara Jean reached down her shirt and brandished something thin, black, and jagged.
"What is it? Did it cut you?"
Clara pushed it towards Wilma, "Take it to 754 Washington Street. Tell them I cracked the code."
The speaker on DoDo's bed came to life, the nurse answering her call. "Are you all right?" a male voice asked, "Is it an emergency?"
Clara continued to hold the item out to Wilma, who accepted it between pinched fingers.
DoDo said, "Turn off that racket. My hearing aids both have feedback. Clara Jean just popped over for a visit. She's down in our room. All ready to go back home, now."
"Right. Thanks," said the man.
The speaker clicked off. "Oh, they're coming now. Oh, hide it!" Clara wailed.
"There now." Wilma tucked it into the foot of DoDo's bed. "All taken care of. 754 Washington Street."
Clara Jean left with the dark haired nurse muttering, "Mustn't tell."
When she had gone, DoDo asked, "And what confidence has she bestowed upon us?"
"It's part of an old record," said Wilma.
"A record? A vinyl record? What do we do with it?"
"Take it with us," said Wilma. " We'll pitch it at the convenience store. She won't know. And even if she tells, who would believe her?"
"Who indeed?" Dodo agreed. "Who indeed?"

Jessie Powell is the Jester Queen. She likes to tell you about her dog, her kids, her fiction, and her blog, but not necessarily in that order.