This weekend, those
madcap editors at Trifecta
want us to write the same exact scene from three different viewpoints, each only 33 words long.  So. This scene follows several hours after
this one
, from another extremely short Trifextra prompt.
___________________________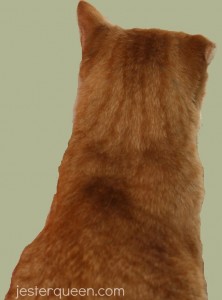 "Remove the cats!" I shrieked. "By the third thunder, the demon box should be empty until I finish the casting!" I raced to finish chalking the sigil that would keep the monster trapped.
When the demon arose choking and spluttering, the child and I dashed around the wizard's studio madly gathering kittens. But the mama cat arched her back and hissed, ready to battle her foe.
Dander choked me like poison. The time to force this puny wizard's spell and break the box had arrived, but my eyes watered and I gasped instead for reprieve. Thwarted by a cat!

Jessie Powell is the Jester Queen. She likes to tell you about her dog, her kids, her fiction, and her blog, but not necessarily in that order.