Over at this week's Trifextra writing challenge, we are to complete in our own 33 words (the second part of the story below for me) the story the editors have begun with their 33 words (the first part of the story below for me)
******************************************************************************
"There's nothing cute about it," he said. The register of his voice indicated decision more so than discussion.
She disagreed heartily and privately, staring past his head and out the window behind him.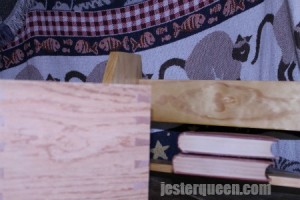 She exclaimed,  "They're tiny! The child wouldn't come without her familiar; the cat wouldn't leave its kits; and I had only the demon box to hold them."
He said, "The demons are allergic."

Jessie Powell is the Jester Queen. She likes to tell you about her dog, her kids, her fiction, and her blog, but not necessarily in that order.