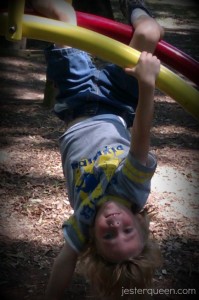 The super moon has turned Sam into a super monster. Seriously. He's been on a rampage today. He isn't normally all that talkative, but today? It's been nonstop words. We took him to the zoo this morning, and I swear to God he woke up every snake in the reptile house bellowing "HERE I AM," as he ran in the door.
When we got home, we tried to slow things down with a viewing of Wall-E. Scott and I enjoyed the movie. What little we saw of it between "hug attacks" and "What's that?" bombardment. (NB: This is a kid who can follow Transformers: Revenge of the Fallen so I know he's full of piss and vinegar when he claims to be unclear about a Pixar plot. Lord.
And then, when the movie was over, he just went into all out Momaholism. Sweet JESUS, he was all over me. He battered me with his adoration, requiring me to lie on my back and hoist him in the air on my shins until my abs hurt. Then, he catapulted into my arms until I was ready to cry. Scott took over just before I broke, but within forty five minutes the kid was back to clinging to my legs like a little limpet laughing madly and screeching at the room. We took him for a twenty minute bike ride around the block, but it had no impact I could see.
So he barnacled for another twenty minutes. Then I stuffed him in his sisters shoes (his own being quite well hidden) and took him on another walk. I am not making it up to say he hop-toaded the first quarter mile of the hike on concrete. You know. Moved on hands and feet together. Seriously. He decided we were making Grinich Spinach and plucked random grass from neighbors' yards for the next half mile or so. By the final quarter mile, I was looking for my elderly neighbor to see if maybe he needed a personal weed trimmer. One who could pluck the grasses one by one.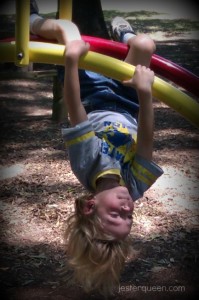 And then, in a flash of green, the lightning bugs came out. The first ones of the season. The first ones in Sam's memory. (Last summer is gone for him. Just gone.) He knew what fireflies were, but had never (as far as he was concerned) seen them before in his life. He chased them through yards and up the sidewalk, and into someone's open garage. And for just a few minutes, he stopped acting like a complete banshee. For that tiny span of time, he was just an ordinary little boy, chasing fireflies, wearing his sisters sandals as he jumped over every crack in the sidewalk.

Jessie Powell is the Jester Queen. She likes to tell you about her dog, her kids, her fiction, and her blog, but not necessarily in that order.