OK, it looks like my dog ate the internet. That's the only explanation I have for the posts that won't show on my site. It's getting WAY annoying people. But. Hopefully it works again today, and the dog will be allowed to live. Oh wait. Update. He ate my blog. Same diff. Thanks to … I don't know what, I've had to change my WordPress Theme. Please be patient as I work through customization to get things up and running again.
As you know, Fudge died a couple of weeks ago at the age of eleven, and we've been dogless since.  But we've been looking. We've visited the pound a couple of times, and we met a standout fellow they were calling Winston.  My kids go to Churchill academy, so we figured it must be fate. (Churchill academy is indeed named for Sir Winston, and its motto, appropriate for kids on the spectrum, is "Never, never, never, never, never give up.")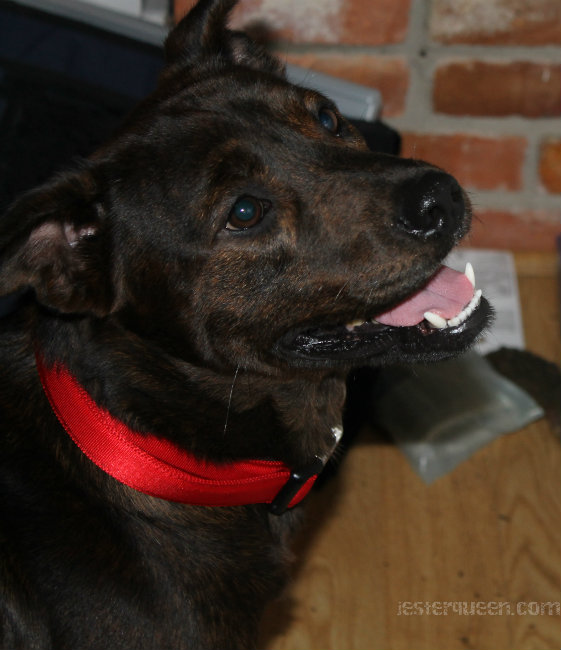 However, this dog has a new name, and it's Chewie. Let me back up.
It stormed yesterday, and the power and internet went out for about 8 hours.  OK five for the power. But it was still a long damned time, especially considering that Sam got sent home early for hurting people and we had to deal with him all that time. Nonetheless, rain and all, we grabbed Caroline at the end of her school day and went to get the dog.
The noise at the pound, which had previously only bugged Sam a little, sent him into a FRENZY. He was literally climbing around on my head. He whipped off Scott's glasses, and things only improved when we had finally completed all the paperwork, and we were ready to leave. Then, he came home and screamed for two hours, ate a meal, waited an hour, screamed another hour, and went to sleep an hour late. OY.
The dog took that in stride. He paced around the house, smelled everything, smelled it again, went out and peed (as long as I came along), smelled everything, went out an pooped (same deal as the pee), and suddenly catapulted into his new crate, stole the bed and capered through the house with it in a 'chase me' sort of way. I took it back before he defluffed it, and replaced it with an appropriate woobie.
Ahem. Woobie was the nickname for dog chews growing up. It stuck. I'm sure it's a derivative of Lovie, but even Madame Syntax doesn't want to investigate that particular back story.
Anyway, as his confidence grew, so increased his interest in the household items. Over the course of the evening, I took away most of the shoes (I've lost Caroline's somehow, and she's had to wear ill-fitting ones today), every stuffed animal that had fallen out of bed, and various other pica objects he wanted to eat.
And then he flipped about sleeping in the crate and had to spend the night on Fudge's old bed in our bedroom, so that when he woke at 5AM, I had to take him out to pee in the pouring rain. And then he didn't go back to sleep, so I had to get up. And since I needed to sleep we ALL piled into the car to take the kids to school, I slept, Scott drove, and the dog sat happily between his children.
I ran out and bought him Rawhides (thank you Annette, Jenny, and Facebook!) and the chewing instantly found its proper focus. I also got him six million woobies to de-woobify. (That's dee-w0o-buh-fy, with the "oo" pronounced as in "wood".). Since then, we've been on a walk. Holy HELL, he knows "heel"?  We've been out to pee several more times. (Still 'we').  And he's settled down for a long afternoon nap in the living room.
The HELL you do, bronco. It's time to annoy the DOG. Take that Mr. 5AM.

Jessie Powell is the Jester Queen. She likes to tell you about her dog, her kids, her fiction, and her blog, but not necessarily in that order.