So, as you know, last week,
my dog ate the blog
. #awkward. But unsurprising for a dog named Chewie. The theme I'm currently using is Foghorn? Foghat? I think I'm getting rock groups mixed up with WordPress themes. Never a good sign. Anyway, I'm working on a redesign over at
http://test.jesterqueen.com
, and I'd love input.
I've already gotten some good ideas from a couple of different people. One person pointed out that people visit Jester Queen for content anyway (which I considered a huge compliment) and I might consider going with a minimalist theme that didn't rely on graphics. So, I sincerely want to know how you respond to the new (potential) design. Nothing is set in stone. Are the butterflies overwhelming? Do they fit? Is the header to your liking? What about the social media buttons? What about the placement of those social media buttons?  What works for you about the theme? (That one is Weaver II, and whatever I do about design, I'll probably be running with the Weaver II theme, as its versatility is right up my alley. The dog won't be able to eat this theme so easily.) What doesn't work about the theme? Do you have other ideas? (Ponying up money for design is not an idea I can take and run with just now – I'm limited to what I can do with my own two hands, though I can probably cough up the $30 for the Weaver II Pro theme.)
I haven't got everything turned on. I don't have anything going on in the footers yet over there, for instance, and I haven't installed the plug-in that converts embedded post IDs to the posts themselves. If you could, please comment here (rather than over there) so I'll have ideas in a single spot. But do let me know what you think!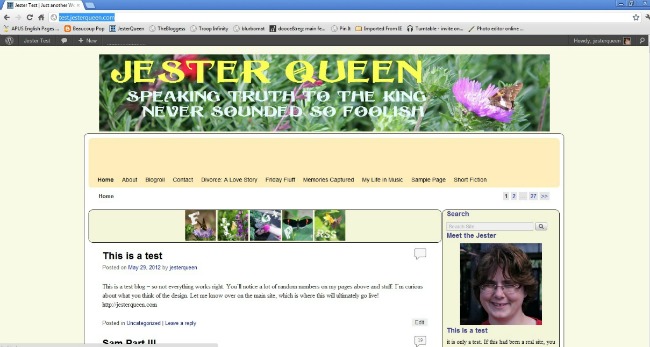 Jessie Powell is the Jester Queen. She likes to tell you about her dog, her kids, her fiction, and her blog, but not necessarily in that order.