I hurled down the
Norton Anthology of American Literature.
It was an undergraduate text, but heavy, and I had hopes. No. It ricocheted harmlessly off my windshield. Next, I tried the
MLA Handbook
. One bounce and it fell onto the pavement. 
A Reader's Guide to Contemporary Literary Theory, Critical Theory Since Plato, The Heart and Stomach of a King,
and
The English Language: A Historical Introduction
. All of them thumped against the glass. Some of them lodged at the top of the hood or caught in the windshield wipers. The rest cascaded down into the parking lot. But none of them started so much as a hairline crack.
I wasn't up high enough. My second story balcony was just too low. "OK, the roof then." I collected my remaining graduate school textbooks into a Kroger bag and hauled myself up onto the railing.
"What are you doing?"
I hadn't even seen Scott drive into the lot, even though his car had surely passed right in front of me, just beyond my own undamaged vehicle. "I'm trying to break my windshield."
"Lock yourself out?"
"No. If I have to go to that fucking English 600 class today I'm going to lose it."
"And so you are…"
"Making an excused absence."
Scott looked up at me poised on the railing as if I meant to jump. He looked at the detritus surrounding my car. He looked back at me. And he started picking the textbooks up. I watched him collect them. He carried them up to the balcony. He walked into my apartment.
I followed.
"Mortensen piss you off again?"
The Kroger bag's plastic handles, stretched to the limit with my six tomes, gave way entirely, tumbling its contents onto the floor. "Goddamn it, why didn't he listen to me? I told them… I told him Cynthia Sheard was a shit-for instructor. How dare he act so supercilious now that she's gone. All I want from that fucker is a 'you were right'. Is that so much to ask?" I threw myself on the couch.
Scott set the books he had rescued on the table that passed for a computer desk. "You have to admit that it's pretty uncommon for a professor to walk out in the middle of the semester." He sat beside me and found the remains of my phone's handset embedded in the cushions. He started putting it back together.
"No I don't. It doesn't matter how often it happens. It matters that I knew it was coming six months ago, and I called it, and now he has to teach her class, and he hasn't issued more than a generic blanket apology."
"So skip. Didn't you say everybody in that course was guaranteed an A?"
"But I don't want to be like those damned sheep who just let it pass unspoken!"
"You're not like them. Believe me, you'll never be like them." He held the handset. He held my eyes.
And slowly, I let go.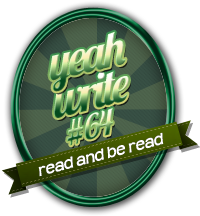 Jessie Powell is the Jester Queen. She likes to tell you about her dog, her kids, her fiction, and her blog, but not necessarily in that order.