So, back on Mother's day, I ran my first ever guest post. It was by
my husband
. This time, I've captured someone even more elusive. One of my best girlfriends. Jenny goes by Jennifer these days, and we go way back. Waaay back. She was my first friend. My preschool friend. My spend-the-night-every-weekend-as-long-as-our-parents-will-endure-it friend. We were tight. Where I'm brash and outspoken, given to outbursts and impulsive actions, she's thoughtful and analytical, no less outspoken given the right set of circumstances, but not at all prone to drawing attention to herself. She uses social media, but only in specific ways. She has seen rock bottom in her life. She has also owned her own business. Right now, she's a kickass stay-at-home Mom to two of the most extraordinary daughters I've ever met. I can't even begin to put my admiration for her in words. She intended this as a Facebook update until I persuaded her to let me run it. I think that what she has to say about women is so crucial. Every single word here she intends to apply only to herself, but I think it can go for all of us. This piece makes me cheer a big loud YES.
Look Ma, No Hair
by Jennifer Southcombe-Harmon
So, it's been awhile since I've been a "regular" poster on FB. This is due in part to the awareness I have of the ridiculously mundane posts that have become commonplace in this era of social media. Were the pancakes I had this morning for breakfast particularly good? Take a picture and post about it. Did my child say or do something cute and/or disgusting that family, friends, acquaintances, and virtual strangers may find slightly interesting? Write a funny post to share it!
And it's not that I begrudge anyone for posting these things. I still log on to FB nearly everyday and read all of the aforementioned posts. They ARE funny and it IS interesting to get a glimpse into other people's lives. It's like socially acceptable voyeurism, and I've always been a visual person…so I creep and peep and occasionally like and share and participate in the FB experience, but from a distance now rather than on the front lines. The front lines were causing me to have feeling of being overexposed, emotionally naked, and uncomfortable with the intimacy of inviting everyone into my everyday life.
Anyway, the whole point of this post is to pre-empt feeling overly exposed, emotionally naked, and uncomfortably intimate when I see many of you in person again, because…..
I've cut my hair.
Now, normally this would (and has in the past) make for a cute post about the long wait at my salon, the debate over a new hair color, and yes..the "after" picture of my new do. But the reason for this post is a little different because this new do is different…a lot different depending on how you view it.
My previously long wavy hair is now 1/16″ long AT THE MOST. It's short. Really short. And. I. Love. It.
Mostly the purpose of this post is to avoid the whole Oh-my-God-has-she-gone-crazy looks and questions. I think people assume when a woman shaves her head that it must be because A) she has cancer, B) is a radical feminist OR a lesbian, C) is rebelling against society's ideal of beauty, or D) because she has gone off on a Britney Spears mental break-up.
Okay, so maybe two out of four MAY somewhat apply here…but mainly it's because I'm lazy and hot.
I don't like styling my long hair. It is always in a tight bun or ponytail. Even one single strand being in my face is enough to drive me nuts. I hate the blowdryer, the hot iron straightener, the expensive trips to the salon, the hours sitting in the colorist chair, the loose hair in the sink and on the floor, and the constant tucking it behind my ear and checking the mirror to make sure the wind didn't flip my bangs in some weird direction.
But there is more to it than just that. As I was hanging my head over my knees and watching the hair fall and accumulate on the floor, I realized it is also symbolic of the growth and maturing I am currently going through. Letting go of the hair is like releasing the drama…releasing myself of the pressure to conform to what someone else thinks I should be…releasing myself of my own pressures to perform and "fit" into a life that I am not always comfortable in…releasing old and bitter feelings that I've been holding onto since childhood…releasing the expectations that I have of others and their behaviors and actions. As the hair was cut and released to the floor, much of the emotional burden and weight was released as well.
So here it is….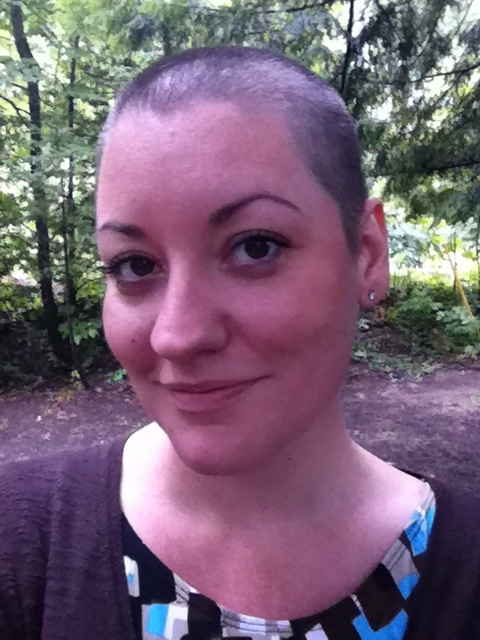 And I feel incredibly SEXY and feminine, and strong and LIBERATED, ridiculously EMPOWERED, and in control of myself. And happy. I feel very very happy about it.

Jessie Powell is the Jester Queen. She likes to tell you about her dog, her kids, her fiction, and her blog, but not necessarily in that order.