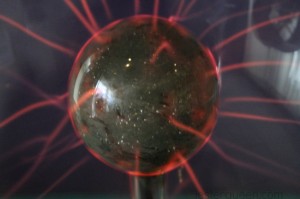 Kelly rubbed the bandage on her right leg and winced. She had no spare energy to heal the wound. She hated this stretch of 331, where there were no streetlights between podunk towns, and every reflection might be him. Hell, for all she knew, every reflection was him. He managed to infect everything. In back, Amber shifted in her carseat and Luna hummed with the radio.
"Mom, stop."
"What, Luna?"
"He's ten miles ahead."
"You're sure?"
Luna didn't answer. Kelly didn't know why she had asked.
There was a chance to change course, head for Destin instead of Pensacola. But he surely knew that, too. If Luna could find her father, then he could find her, had probably done it much sooner. If he was standing after the fork, he wanted Kelly to take it.
He was herding her away from the haven of her sister's house. But if she diverted, he would have to move to catch them. Anything that delayed him bought Kelly time. If she couldn't get to Jane, she might reach the Gulf. Salt water made powerful magic.
Amber squirmed. "I can't sleep."
"You have to." Kelly began a resting spell.
"No. These things are making my butt numb."
"What things?"
"Daddy's crystal balls."
"Amber did you take your father's…"
"I just wanted to play with them!"
"How many…"
Luna said, "All seven. She took all seven." Kelly checked the rearview and saw Luna rooting under her still buckled sister.
"I'm sorry…"
"No. Good girl. Throw one out, Luna. Pitch it hard."
"Do you think he'll follow them?"
"I have to hope so. And their size will make them hard to find in the dark." It was an edge she hadn't realized she held.  "Chuck one every few miles, but keep the last one. I want to I sink it." She turned at the fork and flexed her fingers on her bandaged leg. For the first time since Birmingham, she hoped they might reach the ocean.
__________________________________________________
Since it's week sixty nine at Trifecta, I thought of doing a kinky love scene. But I've had a sore throat and this particular nasty nightmare drifted through me a few weeks ago. I've been looking for something to do with it, and "infection" was the perfect addition.

Jessie Powell is the Jester Queen. She likes to tell you about her dog, her kids, her fiction, and her blog, but not necessarily in that order.