Sam's Saga starts here:
Sam Part I
,
Sam Part II,
________________________________________________________________________________________________________________________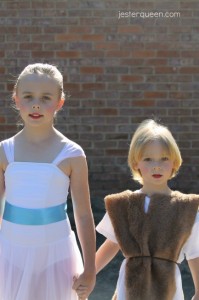 Sam has had a rough year. A rough, rough year. He loves ballet, but he nearly rejected it because he went through a phase of hating everything. And when things were at the utworst, when I thought he was going to have to stop dance, the ballet reached out to him. This was late last year.
They were making a calendar. They needed a little boy to be in a picture, and would Sam please come. OK, let me be clear. They did NOT need a little boy for a picture. Or if they did, they have got two other really cooperative little guys who could have served the role. They asked for Sam because they wanted to engage him when he was so desperately strung out. Did I just write that my four year old was strung out? Jesus.
The day he went, he could not have been less cooperative. Not if he'd tried. He refused to do poses. He refused to dance. He refused to sit still. In the end, they somehow got exactly one picture of the back of his head as he watched a danseur leap. I really didn't think it would be a good photo. But it was. I certainly didn't expect them to end up putting it in the calendar. But they did.
When we hung the calendar in his room and he realized HIS picture was in it? The pure joy on his face. I was so thankful.
Now, let's fast forward to the end of year recital, which was Thursday. I had some forewarning of what was coming, because I'd sat through dress rehearsal, but that recital made me cry. Both kids' dances were simply beautiful. They've both been looking so forward to it. Caroline was a girl in a white dress with a blue satin sash and yes, the song was "My Favorite Things". She looked so graceful and poised. I wept. I love The Sound of Music. I love that song.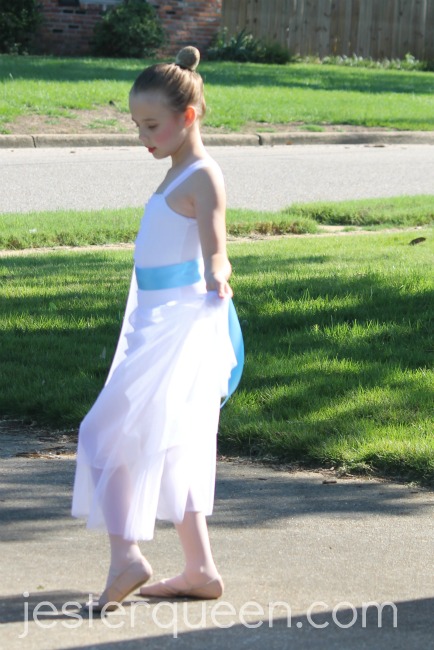 But even before she got onstage, I was already crying, because of Sam. I knew his class was doing Disney Fairy Tales. I knew he was "The Beast", and that the two girls (there are only three in his class) were both Belle. (There are several 4-5 year old classes, and his is by far the smallest.)  I had been bitching my head off about the two songs from Snow White that had just played. (I hate most of the princess films.) I should have been able to connect the dots.
But when Angela Lansbury's song came on, all my air escaped, and my chest felt like someone was tightening a corset. I love Beauty and The Beast. It's the only one of the Princess movies that I enjoy without reservation. Belle is a little less sexist than the others. The music has always captivated me. And that song? It hit me where I didn't expect it.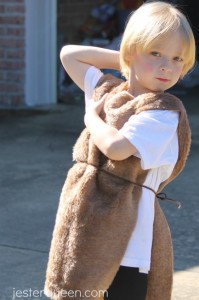 And then Sam skipped on. All by himself, he completed this elegant spiral, then gestured to the wings with professionalism I would expect of a kid six years older. There's one girl in his class who we all agree will someday be professional. She's just so focused and poised. And she's had a huge influence on Sam and the other little girl. And then, too, with only three kids in the class, Miss Kyana could really concentrate on each of them more. So there are clear reasons why his class was light years ahead of the others in the same age group. But it still took my breath away.
When they did the show for real, it was even more stunning than the night before. There was a moment when all three of them did a graceful little step to the left in perfect synchronization, and the audience 'ahed'. And Sam's bow at the end was so solemn. Dear God.
Words fail me. Miss Kyana knows what Sam has been through. She knows how apt the beast to prince characterization is for him right now. (Only, unlike the movie, he goes back and forth between the two personalities.) She gave him this dance as a gift, a profound symbol of how far he has come.
It boils down to this. All year long, Scott and I have felt alone. We have dealt with educators who should have been reasonably expected to give Sam a chance who have, instead, dragged him down. We have worked with teachers who love him very much who just couldn't help him any more. We have interacted with therapists, and psychologists, and counselors, and psychiatrists who have Sam's best interests at heart (well, and one who didn't). They're the ones who have helped us get him turned around before his little train crashed. But this year, school has failed Sam. Except not ballet school.
We found an unexpected reserve of support where we least expected it. All year long, when there was no reason to think that they would or could extend flexibility to him, his teachers have had Sam's back. Just like they had Caroline's back from day one when she knew 'left' and 'right' but couldn't turn in either direction no matter how she tried.  In a world traditionally depicted as so conditioned and disciplined that art becomes more important than humanity, we have fallen into a deep well of loving kindness. The Montgomery Ballet has created a haven for my child at a time when he has needed it most.
I am so very grateful.
_____________________________________________________________________
The tale continues here:

Jessie Powell is the Jester Queen. She likes to tell you about her dog, her kids, her fiction, and her blog, but not necessarily in that order.