Before you begin,  here's the Sam series, in order, with an important note about ballet in there:
Sam Part IV (this one)
So, the last time we saw Sam, he had just jumped out of my car, and the family was headed for Wit's End Lane really fast. As an emergency measure, the psychiatrist prescribed a mood stabilizer, Risperdal, and we hoped for the best.
The results were sudden and stunning.
For the first time in a year, we saw our son. The funny little guy under all that anger, the creative thinker hidden under all the frustration. He still had meltdowns (still has them), but they lasted a few minutes instead of a few hours, and he understood the gravity of his actions. For two weeks solid, he apologized every day for jumping out of the car. (Note: I accepted every one, but I sure didn't discourage the thinking-through that he was doing.)
We had to have blood testing, which determined that Sam can keep taking this drug, which is working miracles for him. This isn't a long term solution. When he's a little older, we'll have to find a different medication that doesn't have such alarming side effects over the course of numerous years of taking it. But with any luck, it will get us through a school year. And Sam so needs a good year.
But seriously, if that was all, I'd have posted a Facebook update. I'm writing because of the ballet. Yesterday, I told you about Caroline's stint as an extra in Giselle, and now I'll pick up where I left off. We got an e-mail this past week asking kids to come audition for a performance to be done on the local military base. Our ballet is hurting for funds, and I have hopes that maybe the air force commissioned a piece or something.
Anyway, there was one part for a kid ages five to eight. So I sent both children and Scott over to try out. I told Caroline point blank that she should focus on the audition process. They go for equality in this company, and she just got to be in Giselle. I had a strong feeling they were going to choose someone who hadn't gotten a turn lately.
I told Sam Miss Kyana wanted him to come dance. He was good with that. If I told him Miss Kyana was hoping he'd try out skydiving, I'd have to go pick him up at the airport.
Scott took them in, and Sam commenced to flirting with his favorite teacher. Kiss-blowing, eyelash batting, the works. Everything short of the marriage proposal. (He reserves those for me. Sigh.) There were fourteen kids, and when they went into the studio, the new director came out and explained to the parents that he was really excited so many children had turned out. There was only going to be one part in this particular ballet, but he really hoped everyone would come back for Nutcracker tryouts in September. He made it clear that he loved all of their kids and thought them all splendid dancers.
After the first round, seven kids got sent back out. Caroline was among that set. In fact, all the  seven and eight year olds got sent back. The seven who remained were all six and under. Clearly, they wanted a younger child, since there's no question that the older students have more technical mastery than the younger ones. After another round, four more kids came back to their parents. That left three children. Finally, Sam and the last two little girls came out, and it was decision time.
I should note that Caroline, as soon as she didn't get the part, immediately started rooting for her brother. She's my little sunshine with an awesome spirit. While waiting, the three remaining parents were joking with each other and the kids were just bored. Nobody sat on tenterhooks. And then Mr. Darren came back out. He said, "This was a difficult decision, because all three of you are really good dancers."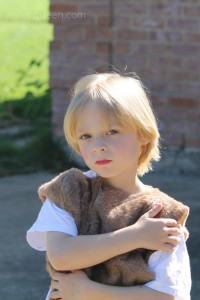 And then he picked Sam. I'm tearing up just typing that.
The kid who jumped out of my car three months ago.
Just got cast in a ballet.
Because he didn't flinch in the part where another dancer has to put a hand over his face.
Because he performed a lift without wiggling.
Another of the little ones has been cast as Sam's understudy. (My kid has an understudy, ohmygod.)
On October 11 and 12 2012, Sam will be performing the role of the son of an MIA soldier, once at a local church, and once at the military base.
And the church performance will be live streamed. I'll post the link on Twitter for anybody who wants to see (or to search the audience for the sobbing mother I know I'll morph into, having heard the plot.)
And
Oh
My
God
We are so proud of our little guy right now.

Jessie Powell is the Jester Queen. She likes to tell you about her dog, her kids, her fiction, and her blog, but not necessarily in that order.