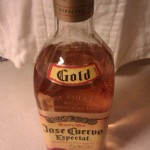 James tried to sing part of "Dixie Chicken", but he was too drunk to carry the tune, and in any case, the tidbit that slurred out of his mouth came from "Fat Man In the Bathtub". Sherry slapped him. "You call this good clean fun?" she demanded as he reeled away from the blow. "You can barely stand up."
James remembered another line and sang, "Juanita, my sweet torpedo…"
"Torpedo?" Sherry's voice rose an octave. "Torpedo?" She collared James and forced him to sit down. "It's chiquita" she hissed.
On James' other side, a man said, "No, he's right. Torpedo. Watch Lowell George's mouth on Youtube sometime."
"Thank you!" said James.
"Torpedo, huh?" said Sherry. "That's pretty damned funny."
"Well, think about it," the man went on. "Billy wants to check her oil."
"He wants her to be a car, not a boat," Sherry argued.
James sang, "Built like a car," under his breath, half to himself.
"Wrong song, " said Sherry.
"Always the wrong song with you," James muttered. His head sank into his arms, and Sherry went on talking with the man on his other side. After a couple of minutes, James lurched off the barstool. This time, Sherry didn't drag him back.
He staggered outside where the fresh air cleared his head just enough to give him his balance. He remembered the words to "Fat Man in The Bathtub" and thought he and Billy had a lot in common just then. He wished for a hat and found a pizza box in the gutter. He clapped it on his head and started to run. It flew off at once, but he didn't stop to get it. A rumbling yell built in his chest until he was bellowing down the sidewalk. "Throw me a line," he sang.
But of course, no line was thrown, and he was well beyond the bounds of good clean fun.
____________

This is my entry for Trifecta, this week sponsored by the third definition of the  word "clean". You really need to join this meme if you haven't already. It's one of the best on the web. Last week, I won third place for the Trifextra competition with "Lost", and given the editors' love of all things 'three', I couldn't be more thrilled
For the record, and because I don't want to hear about it in the comments, Sherry was right the first time. Chiquita. I'd guess Sherry's new paramour sings Red Hot Love instead of "Radar Love", too, just exactly like James, when Golden Earring's signature tune comes on. The woman's clearly got a problem with picking up musical duds in bars and should elevate herself to higher dating grounds at once. And if you can see Lowell George's lips clearly through his beard when he gets to the second "Juanita, my sweet…" please, send me the clip.
______________________
Edit. I don't typically embed on my blog. However, I just assumed I was calling on a collective collective consciousness here. I thought most people knew Little Feat, "Dixie Chicken", and "Fat Man in the Bathtub". (I'm not posting T-Rex's "Bang a Gong" – if you listen to the radio you've heard that.)  You can skip the videos, as I'm picking boring ones. Just listen to the songs. Little Feat will change the way you hear music. All music. Forever. Even if you hate them. (Which I do not.)
"Fat Man In The Bathtub" Yes. Lowell George is the really stoned liquid guy up front. Yes. He is nonetheless playing rhythm AND guitar, AND he is singing.

OK, I lied. This is an awesome video of "Dixie Chicken" and features Emmylou Harris, Bonnie Raitt, and Jesse Winchester. Lowell looks like he may be a bit less jacked up here.


Jessie Powell is the Jester Queen. She likes to tell you about her dog, her kids, her fiction, and her blog, but not necessarily in that order.