Happy SITS day to me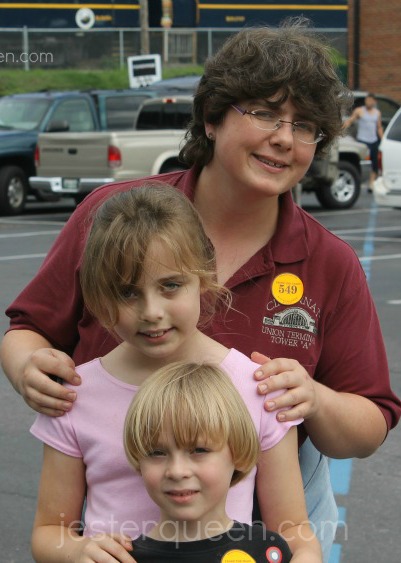 Happy SITS day to me…
Ahem. Today is a happy dance day for me. But I need to start on a sad note. Our ninety year old neighbor has died. I came across his daughter-in-law cleaning out his house today. She said he went peacefully in his sleep. I was saddened by his death, but I was also so very glad that he was surrounded by family on the day it happened. He got up for breakfast, spoke briefly with everyone, went back to bed, and just never got up again. I'm glad I got to know him, if only very briefly.
Now, on to the truly happy stuff. It's my day to be the featured writer over with The SITS Girls. Brief primer for the uninitiated. The SITS Girls are (is? are? Madame Syntax is in a quandry) a community of 40,000 women bloggers supporting each other. And the original SITSTAHS, Francesca and Tiffany (who also run Bloggy Boot Camp) are willing to feature YOU, as long as you are willing to be patient and support other bloggers while you wait. I was mostly patient. Missy at the Literal Mom did have to talk me down off one ledge. But we shall speak not of such things. (Ahem. Patience is not my strong suit.)
For those visiting for the first time, welcome. For those who have been coming here for a long time, thank you. This is a humor blog with a literary twist. Or possibly a literary blog with a humorous twist and some sappy wholesome stuff in between the swear words. Most of all, Jester Queen is a growing blog, and I am grateful for every single visitor. Because I blog, I've made real friends without meeting them in person. (Though I just met a few at the Aiming Low Nonconference!) I've found unexpected wells of wisdom and support. And I've had some awesome and revealing conversations in blog comments. I'll paraphrase another favorite writer's phrase here. Andra Watkins says of all the places on the internet that you could choose, you have come here, and I am so grateful.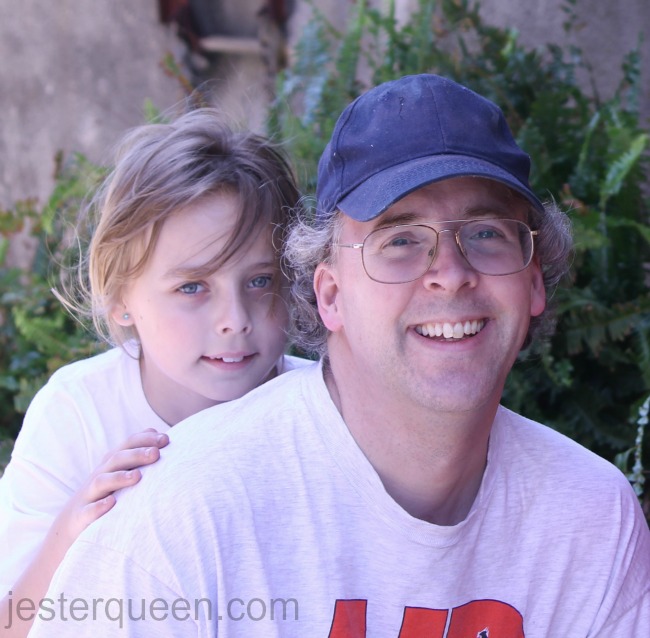 A little bit about me. I just celebrated my eleventh anniversary with Scott, the love of my life. My kids, Caroline and Sam, both have Asperger's syndrome. For Caroline, the early manifestations included gross motor dyspraxia and echolalia. For Sam,anger issues and impulsive behaviors have been the chief symptoms. To answer a couple of common questions, my children are fully vaccinated, and the vaccines didn't cause their autism. It is genetic. They don't have any real dietary needs, though they are both picky eaters, so I have to work to smuggle them the nutrients they need. Finally, I don't think they need curing. Therapy to help overcome obstacles? Oh yes. But if Caroline did not have Asperger's syndrome, she would not have this incredible well of empathy. (Although some people with Asperger's struggle to empathize, autism comes to each person a little differently, and it is a stereotype to think that everyone with Asperger's can't relate to others.) Sam would not have the extraordinary focus that allows him to dance so well. I do not want to discount the struggles of parents whose children are dealing with profound autism. But so often, those are the only stories others hear. My kids' experience has been vastly different.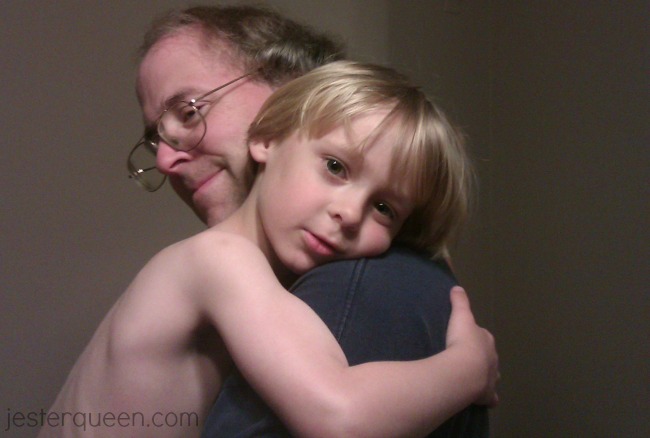 And I don't come without my own quirks. I have bipolar syndrome. I channel a lot of my mania into my fiction writing and in my editorials over at Sprocket Ink. My novel Divorce: A Love Story was published by a micropress called Throwaway Lines. Right now, it's in e-book format, but my editor says we hope to have a paperback available by fall. (Maybe late fall.) You can find it for $2.99 on Amazon.com or at Barnes and Noble.com. (And even if you don't have an e-reader, you can use a Nook or Kindle for your computer.) But I don't believe my bipolar causes my creativity. Rather, it hinders it. When I am cycling (this has nothing to do with bicycles, it has to do with mood swings), I lose my ability to write. I do have a day job, teaching college English online. But I don't blog about it. Ever. Too much of the funny stuff would violate student privacy. Too much of the grumpy stuff would get me fired. And too much of the happy stuff would be so academic and esoteric that it would bore the pants off of any rational blogger.
I'm loud, profane, and since last year, I've lost forty pounds, bringing me down to 183, with an end goal of something like 150. I'm overjoyed to be featured on SITS today, and I thank you for reading my little ramble. I have one last favor to ask. Two of my writing buddies, Lance Burson and Cameron D. Garriepy, have composed pieces for the America's Next Author competition. If you could take a few minutes out of your day to read and vote for them (on the right side of the pages I linked to, where it says Authorname's story is…) , it would mean so very much to me. They are extremely talented, and I would love for either of them to win.
Thanks again for visiting! I look forward to being bloggy-friends.

Jessie Powell is the Jester Queen. She likes to tell you about her dog, her kids, her fiction, and her blog, but not necessarily in that order.